Fishers Child Care Conveniently Located in Saxony Village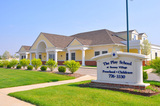 About The Play School at Saxony Village in Fishers
Our Fishers child care location in Saxony Village is conveniently located within the Saxony development, making it especially convenient for neighborhood families.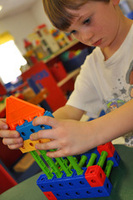 Care Children at this Fishers day care have access to a variety of age-appropriate playgrounds with equipment that is held to the highest safety standards. Inside, a wide-open gymnasium space provides opportunities for physical activity through all types of weather.
At the core of The Play School is our play-focused curriculum that helps children build their confidence and develop a love for learning. Children also have plenty of time to interact with their peers and develop important social skills. Learn more about our Fishers Day Care curriculum.
Transportation to Elementary Schools
For children who attend nearby elementary schools, our Fishers day care location provides reliable before and/or after-school care and safe transportation to these schools in the Hamilton Southeastern School District:
Sand Creek Elementary
Brooks School Elementary
Thorpe Creek Elementary
Fall Creek Elementary
Durbin Road Elementary
Cumberland Road Elementary
Don't see your school? Check out our Indianapolis child care at Arbor Village and Stoney Creek or ask us about other schools we may serve.
Student Enrichment Activities
We are proud that we offer quality, extra curricular immersion programs at all Play School locations, to all children enrolled, at no additional fee. Ask the Center Director for more information about current offerings. Current and past enrichment activities include:
Spanish Immersion program taught by degreeed and/or native Spanish-speaking instructors
Gross Motor / Physical Activities
Music program taught by degreed music teachers
Dance / Movement classes
We also will accommodate therapists and other professionals who want to provide on-site services at our Fishers day care location. Learn more about our classroom curriculum.
Fishers-area Employers
We proudly welcome a wide variety of families to our Fishers day care location. We have a number of medical professionals and nurses who take advantage of our flexible scheduling option. Several area school teachers also trust The Play School to care for their children and appreciate getting two weeks of tuition-free vacation. And, our part-time schedules are great for parents who work part time or moms who want a day or two for themselves.
The convenient location of our Fishers day care center in Saxony Village has made it the perfect choice for families employed by:
Eli Lilly & Company, Carmel
Sallie Mae, Fishers
Roche Diagnostics Corp., Fishers
Community Hospital North, Indianapolis (Castleton)
Hamilton Southeast Public Schools, Fishers
St. Vincent Medical Center Northeast, Fishers / Noblesville
Clarian Hospital North at Saxony
Community Health Pavilion Saxony
…and more
The Fishers Area and Saxony Community
We're proud to make Saxony Village the home for our Indianapolis child care center. We've watched the Fishers community grow with thriving businesses and vibrant neighborhoods, including the diverse housing, multiple office districts, Saxony Beach/lake, and retail outlets that make up the 725-acre Saxony development in Hamilton County, Indiana.
Great schools, safe neighborhoods and beautiful parks draw families to Fishers. More importantly, fantastic friends and long-lasting relationships keep people in Fishers. The recent development of Exit 10, including Hamilton Town Center and the emerging Noblesville Corporate Campus, is attracting new waves of workers, shoppers and residents.
If you are new to the community, we welcome you and want to help you learn about your Indianapolis child care options. See if our high-quality, affordable Fishers day care is the right choice for your family. Contact us to schedule a tour.